The Newcomb Spring Camera Gauge System
Originally published by John Jacobson, as printed in NASA Tech Briefs Photonics Tech Briefs section
---
A New Dimensional Analysis Tool with Reportable Accuracy for Spring Manufacturing
---
Efficient and accurate operations are vital to the success of today's manufacturer. Newcomb Spring, one of North America's largest manufacturers of custom springs, wire forms and stampings, is continually working to improve their production processes. The Company has also seen an increasing number of requests for reports that detail the compliance of completed orders. Newcomb's in-house Research and Development Department is tasked with developing and building new technologies and equipment to solve unique challenges as well as improve overall operations and efficiency. Recently, Newcomb Spring introduced its own Camera Gauge System, developed by its R&D team, which was designed to provide high-speed manufacturing with automatic adjustments, extremely high levels of compliance and reportable accuracy, unmatched in the industry.
While other camera gauge systems are available in the market today, they lack features that Newcomb felt were important to their operations. "Our goal was to design and build a new gauge system that would bring 'real-time inspection' to a more current mode," said John Jacobson, Vice President of Newcomb Spring Corp. "We are constantly improving our production processes by adding state-of-the-art computer-controlled forming equipment and retro-fitting or re-building older forming machines. While most traditional coiling machines run with some type of length gauging, these gauges utilize non-contact capacitance systems that measure the distance from the end of the spring to a fixed probe tip located in front of the spring. We wanted a system that would offer a better view of what was taking place, and at the same time provide excellent gauging accuracy."
The development of their own system not only allowed for improvements compared to publicly-available systems, but would also allow the company to adapt operations to meet specific customer needs, now and in the future. Newcomb Spring's R&D department looked at specific manufacturing processes and what management viewed as the technology's future requirements, and created an innovative system of computer-controlled forming equipment, software and camera monitoring.
System Operation
The Camera Gauge System's operations center on a camera-based pixel resolution that is referenced as a measurement basis. A high-resolution camera fitted with a zoom lens monitors part dimensions, and as each part is formed, the camera rapidly captures multiple images of the part. Each image is transmitted to the system's software, which measures the part horizontally and vertically in real-time, analyzing and recording dimensions with software that the Company also developed. Unlike traditional gauges this new Camera Gauge System can be positioned at different views and capture different measurements, monitoring not only the length of the part, but also a second dimension, such as width.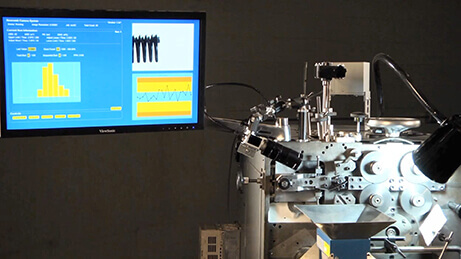 Extremely high-resolution cameras provide detailed pixel analysis, and are linked to Newcomb's proprietary software. During set-up, the software and equipment is programmed by the operator who inputs part dimensions, allowable variances, order identification information and production quantities. Different modes of correction are also entered, depending on part requirements. During set-up the system's resolution is also verified for accuracy, confirming it is correct for the controlled tolerance levels.
As each part is formed, multiple dimensions are captured by the camera, and measured and recorded by the software. If part measurements approach maximum tolerance levels the program will automatically trigger an adjustment in the connected wire coiling machinery, which causes the equipment to recalibrate and comply more closely to nominal specifications.
Any parts that exceed allowable tolerances are automatically rejected and sorted into a separate holding bin. Real-time operation allows the system to detect non-compliant parts as they are completed, segregating them from the order, and virtually eliminating the risk of components that do not meet order specifications. When the order is complete a manual count of rejected parts is performed and checked against system data.
The Newcomb Camera Gauge System is programmed to automatically shut down when order quantities are fulfilled, or if too many parts exceed allowable tolerances. There is also a safety shutdown if there is ever a problem.
Designed for the Shop Floor
"It was important for us to ensure our Camera Gauge System was as user-friendly as possible," said Jacobson. "While we can have the most state-of-the-art equipment available, there is always the possibility of human error. We designed the system to make it easy for the operator to use while maximizing the technology. There are still multiple, manual quality control checks, but with the integration of special features we worked to reduce the potential for errors."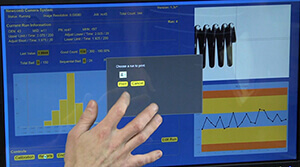 The system utilizes a 20-inch color touch screen for the operator interface and display, which makes viewing parts significantly easier than other gauge systems. Backlights of varying sizes are utilized to provide a consistent backdrop to view the part against, and at high zoom levels, even the surface of the part's material can be seen clearly.
"The large display offers a magnified view of the spring, which makes the set-up very straight forward," noted Craig Stevens, R&D Specialist at Newcomb Spring of Tennessee, who installs the Camera Gauge System and trains operators on its use. "It allows for a quick visual check of the parts while in production. Unlike some of the other gauge systems I have used, you don't need to be inches from the part to see it in detail."
The screen is mounted on top of the forming machinery in such a way that it can be seen from a distance by anyone in the department. The positioning ensures maximum visibility, so issues that may have gone unnoticed with previous gauge systems are much more likely to be observed. Since the system is operating automatically, without operator oversight, fast response to any issues can dramatically reduce costly problems.
Order Reporting
Newcomb has witnessed an increasing need for accountability in the order process. More customers are requesting detailed records on the orders they are receiving, and are looking for statistical data to confirm parts meet their requirements. The Newcomb Camera Gauge system records a digital image of each part as it is produced, along with data and the charts from the run. This information is saved as an archive and is available for download or printing, providing a record of the completed order. This report provides customers with quantifiable quality assurances.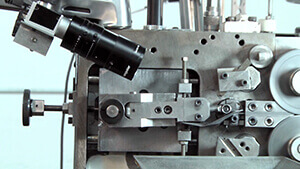 Currently the Newcomb Camera Gauge System is used in the production of compression springs. However, the technology was designed to be able to monitor other part types, including torsion springs, extension springs, wire forms, and stampings, and efforts are underway to adapt the system to these types of components. The system was also designed using standard peripheral fittings, allowing the equipment to be easily upgraded or modified per order needs and as new technologies are available. Newcomb Spring tracks the system's production statistically. By tracking trends in data points, the company is able to help prevent possible quality issues from occurring in future orders and in specific part designs.
"The overall goal is producing parts efficiently and accurately, which allows us to deliver the highest quality parts at the best prices possible," said Jacobson. "We're adapting the software to identify trends that allow us to improve our procedures and equipment. The system is automated and already very efficient, but at Newcomb, we are always thinking about our 'next step' to improve."
In addition to equipment improvements, Newcomb is actively working with its staff to identify ways the system can continue to evolve.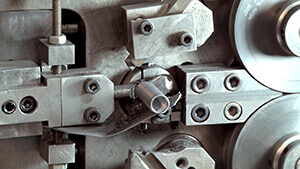 "Newcomb Spring has always been an industry leader in spring manufacturing, and we know that one of our greatest assets is our employees, and the experience they provide," said Jacobson. "While much of the Camera Gauge System's operations are automatic, feedback from the operator is still a great asset. We are still looking at new capabilities for this system - new production aspects and better ways to improve the human-machine interface."
Since its development, the Newcomb Camera System has allowed the company to increase sales to customers that require precision components with detailed order reporting. It's accurate operations and real-time response has decreased the number of rejected parts, reduced material waste and allowed for the rapid production of custom components.
While the company notes that initial response from customers in aerospace, medical, military and electrical applications has been strong, they expect the system's compliance and reporting capabilities to be common for orders in virtually every market in the future.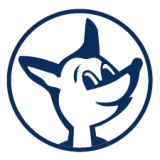 Newcomb Spring Corp.
Newcomb Spring Corp. is a worldwide supplier of
compression springs
,
extension springs
,
torsion springs
,
wire forms
,
stampings
,
rings
,
hooks
and
battery contact springs
. The company's products are utilized in a variety of industries, including
aerospace
,
agricultural
,
automotive
,
computer
,
medical
,
military
and
telecommunications
. Family-owned and operated, Newcomb Spring Corp. is headquartered in
Alpharetta, GA
, and offers additional facilities in
California
,
Connecticut
,
Colorado
,
North Carolina
,
Tennessee
,
Texas
and
Ontario, Canada
. Newcomb Spring operates with
ISO-9001-certified
quality systems and delivers a wide range of
material capabilities
in the manufacture of metal components, specializing in reliability,
rapid response times
and stringent
quality control.