Newcomb Spring Manufacturing Leadership Award
Originally published by Newcomb Spring
---
New England Spring and Metal Stamping Association (NESMA) Recognizes Newcomb as a Charter Member
---
Newcomb Spring is proud to announce it has received an award of recognition for its position as an original charter member of the New England Spring and Metal Stamping Association (NESMA). Founded in 1956 by a group of CT businessmen, including then-president of Newcomb Spring, G. Donald Jacobson (Sr.), NESMA is a trade organization of spring, stamping and technical manufacturers. With membership throughout New England and the United States, the association provides information and resources, while supporting the development and education and of a skilled manufacturing workforce. Mr. Jacobson was elected NESMA's first president in 1957.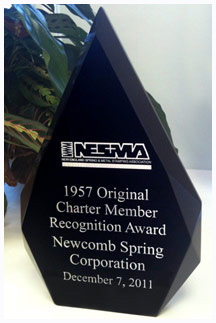 Newcomb Spring has been a member of NESMA since its founding, and continued its tradition of industry leadership in 1982, when Mr. Jacobson's son, G. Donald Jacobson Jr., was elected president of NESMA.
Today, Newcomb Spring remains an active member of the association, and the Jacobson family continues to run Newcomb Spring, with the 3rd and 4th generations involved in daily operations, honoring the tradition of excellence that the company was built upon.
Since it became First in Forming long ago, Newcomb Spring has been a leader in spring and metal form manufacturing. With continual investment in technology, education and machinery, the company provides the highest quality custom springs, wire forms and stamped metal parts.
We congratulate other recipients of this prestigious award, and look forward to the continued success of the New England Spring and Metal Stamping Association and its efforts to promote spring, metal form and technical manufacturing.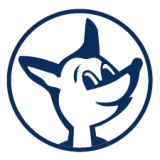 Newcomb Spring Corp.
Newcomb Spring Corp. is a worldwide supplier of
compression springs
,
extension springs
,
torsion springs
,
wire forms
,
stampings
,
rings
,
hooks
and
battery contact springs
. The company's products are utilized in a variety of industries, including
aerospace
,
agricultural
,
automotive
,
computer
,
medical
,
military
and
telecommunications
. Family-owned and operated, Newcomb Spring Corp. is headquartered in
Alpharetta, GA
, and offers additional facilities in
California
,
Connecticut
,
Colorado
,
North Carolina
,
Tennessee
,
Texas
and
Ontario, Canada
. Newcomb Spring operates with
ISO-9001-certified
quality systems and delivers a wide range of
material capabilities
in the manufacture of metal components, specializing in reliability,
rapid response times
and stringent
quality control.