Spring Manufacturing Specifications
---
While we have listed some of the most common sizes, materials and manufacturing specifications, Newcomb Spring provides completely customized production of all springs and metal forms.
Large Volume Orders, Short Runs & Prototypes – formed, assembled and packaged to meet your requirements.
Proprietary Camera Gauge for Superior Quality – photographs and verifies each part, automatically adjusting production without shutdown.
Kando Tech Centers – in all 8 manufacturing facilities you can work with our team and equipment to optimize designs and lower costs.
Engineering Support – our team can provide expert design assistance on any order, or view our online spring design resources.
Design Of Compression Springs
---
Many issues related to the design of compression springs should be considered, as these relate directly to the spring's performance. Compression spring manufacturing tolerance requirements, squareness of ends, deflection and the slenderness ratio often are overlooked in the design process. Newcomb's sales and engineering staff will gladly review your compression spring specifications. We can offer design assistance and recommend the best options to control costs and make sure the spring functions to fit your needs.
Compression Spring Grinding
---
Compression spring ends often are ground to increase operational life and to allow the spring to sit squarely on the load-bearing surface. Grinding of compression springs also increases the number of active coils and the wire diameter available in a given volume of space, which can result in higher loads or lower stresses. As a modern compression springs manufacturer, our facilities operate with a wide variety of equipment - from hand-operated grinding tools to automatic, high-speed vertical spindle disc grinders.
Compression Spring Diagrams
---

Compression Spring with Closed Ends, Not Ground, Left-Hand Helix

Compression Spring with Closed & Ground Ends, Right-Hand Helix

Compression Spring with Open Ends, Not Ground, Right-Hand Helix

Compression Spring with Open & Ground Ends, Left-Hand Helix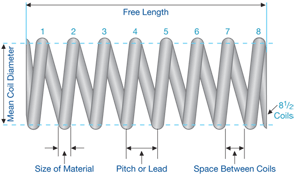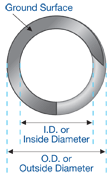 Compression Spring Formulas For Dimension Characteristics
Spring Characteristic
Open
Open & Ground
Closed
Closed & Ground
Pitch (p)
L - d
____
na
L
____
na
L - 3d
____
na
L - 2d
____
na
Solid Height (H)
d(N1 + 1)
d x N1
d(N1 + 1)
d x N1
Total Coils (N1)
na
na + 1
na + 2
na + 2
Free Length (L)
(p x na) + d
p x na
(p x na) + 3d
(p x na) + 2d
d = Diameter of Round Wire (in. or mm.)
L = Free Length N1 = Number of Coils
Na = Number of Active Coils
p = Pitch
Below are just a small selection of the compression spring shapes we have produced, including:
Anti-Vibration Spring
Auger Spring
Barrel Shaped Compression Spring
Ends Closed & Ground
Ends Closed & Not Ground
Ends Open & Not Ground
Ends Open & Ground
Compression Spring with Tapered Ends
Concave Compression Spring
Conical Compression Spring
Constant Coil Compression Spring
Die Spring
Handle Spring
Hose Guard Spring
Hourglass Shaped Compression Spring
Hourglass Shaped Compression Spring with Straight Leg
Magazine Spring
Valve Spring

Compression Spring Manufacturer Gallery
---
As a custom compression spring manufacturer, Newcomb Spring can produce a wide variety of compression spring shapes, sizes and designs. Using material sizes from .007 to .625 inches in spring wire diameter, and up to 2.0 inches bar stock, all Newcomb compression springs are precision manufactured to meet even the strictest order requirements. With over a century of spring design and manufacturing experience we can provide design assistance on your compression spring order, helping lower production costs and review your part's fit and function.