Newcomb Spring of North Carolina
ISO 9001 Certified Quality Systems
---
Newcomb Spring of North Carolina utilizes modern equipment, electronic gauging and advanced operational techniques to serve customers based throughout North and South Carolina, Virginia and West Virginia as well as the eastern and mid-Atlantic states. Operating with ISO 9001 certified quality systems, this facility is a leading spring manufacturer in North Carolina, and produces high volume runs of precision compression springs and extension springs, as well as small and medium orders of all types of springs, wire forms and stampings.
While serving a diverse array of markets, Newcomb Spring of North Carolina acts as a primary manufacturer and supplier of components for the electrical, automotive, hardware, industrial machinery, medical, textile, computer, and telecommunication industries.
The dedicated North Carolina staff expertly aids customers from the critical R&D phase of product development through assembly and implementation. As with all Newcomb facilities, the North Carolina team works to fulfill orders as quickly and efficiently as possible, providing customers with the highest quality parts at competitive prices.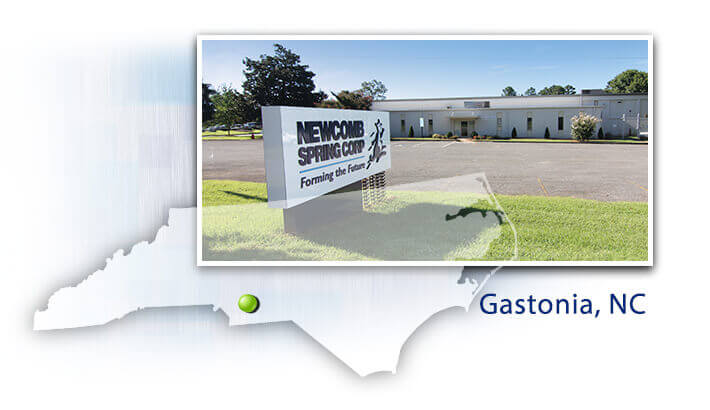 North Carolina
2633 Plastics Drive
Gastonia, NC 28054
(704) 588-2043
(704) 588-6257
The Newcomb Spring Network: The Carolinas, East & The Mid-Atlantic
---
Newcomb Spring of North Carolina operates with ISO 9001 quality-certified systems and utilizes real-time information sharing with our other locations. We also offer facilities in:
Visit Newcomb Spring Of North Carolina
---
If you would like to visit our Gastonia facility please contact Newcomb North Carolina at the address and phone number below, or email us at nc@newcombspring.com. One of our customer service representatives will gladly arrange a visit and can answer your questions.