Metal Form & Custom Spring Supplier Capabilities
Precision Manufacturing of Custom Springs, Wire Forms & Stampings
---
As one of the country's largest metal form and custom spring manufacturers and suppliers, our diverse capabilities lead the industry. From design assistance when your order is first placed, to specialty packaging when we ship your order, Newcomb Spring processes are designed for precision and efficiency.
At Newcomb Spring we work to make the order process as easy as possible for our customers, and are proud to be one of North America's largest and most respected metal form and spring suppliers. Some of our specialized metal form and custom spring supplier manufacturing capabilities include: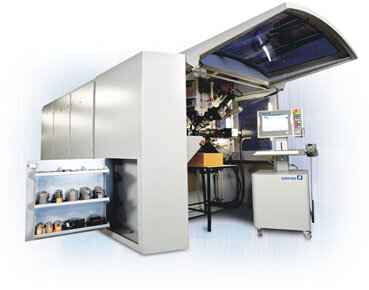 Design Assistance
---
Our staff is one of the most experienced in the industry. We can review your order to evaluate part function, make suggestions on your design, and work to help you lower custom spring and metal form production costs. We even offer our very own spring design calculator – the Springulator®. Customers look to Newcomb to help solve their design challenges.
Materials
---
Newcomb Spring's production consistency and accuracy is unrivaled. With low error and scrap rates, our operations maintain low costs and minimal waste, which allows us to cost-effectively provide parts out of a wide variety of a standard, semi-precious and precious materials. Customers in some of the world's most precise industries rely on Newcomb Spring to product parts using:
Spring Steel & Carbon Steel
Stainless Alloys
Non-Ferrous Metals
Elgiloy® & Hastelloy®
Monel® & Iconel®
Gold & Titanium
Fast Turnaround
---
With a network of locations equipped with the industry's most advanced, efficient manufacturing technology, we can supply custom springs and metal forms faster. From fast prototypes to large orders, we can meet deadlines that other form and spring suppliers can't.
Quality Controls
---
Newcomb parts meet the strictest quality control requirements, and we offer advanced QC processes to ensure precision and accuracy. We offer industry-leading camera gauge systems, laser measurement and more – supplying the highest quality custom springs and metal forms.
Assembly & Finishing
---
Our secondary processes maximize part performance, and help us to supply springs and forms that are ready for our customers' applications. From heat treating to plating to grinding and more, our array of custom spring and metal form assembly and finishing services leads the industry.
Specialty Packaging
---
From tacky board to individually boxed, we offer a wide variety of packaging options for custom springs, wire forms and stampings. We also work with customers to develop custom packaging solutions. It is our goal to make our parts easy to get into your products.
Kando Tech Center
---
A dedicated space in each Newcomb Spring facility, Kando Tech Centers allow customers to solve design and manufacturing challenges. This area, right on the shop floor, helps customers reduce turnaround times by having immediate assistance from the industry's leading spring and metal form manufacturing experts, often receiving prototype revisions while they wait.
Metal Form & Spring Supplier Markets
---
Newcomb Spring is a custom supplier of springs, wire forms and metal stampings for a variety of industries including: