Power Equipment Spring & Metal Form Manufacturing
Lawn and Outdoor Power Equipment Spring & Metal Forming Applications
---
Newcomb Spring offers precision manufacturing of springs, wire frames and metal stampings for a variety of lawn, garden and outdoor power equipment applications. Many lawn and garden applications require a variety of springs, wire forms and metal stampings in their construction and operation. From the torsion spring in a sprinkler head to the air intake valve on a riding lawn mower, Newcomb Spring parts keep landscaping and outdoor power equipment working. Our parts are manufactured using highly-accurate and efficient processes to produce durable, reliable parts at low prices.
A Custom Spring & Metal Form Supplier
---
Newcomb Spring often provides secondary and finishing operations on springs, wire forms and stampings designed for lawn, garden and outdoor power equipment applications, including:
assembly
heat treatment
passivation
painting
part labeling/identification
powder coating
shot peening
stress relieving
Many customers also utilize our specialty packaging options. We are able to ship parts in bulk, on tacky board, in plastic trays, bagged, on tubes, or using virtually any custom method that makes it easy for you to use our parts and your lawn, garden and outdoor power equipment products. We also provide part identification and engraving services, which is often helpful in situations where part lots and manufacturing dates must be identifiable, or when many similar parts are used in the same assembly, and need to be labeled to ensure proper installation.
Our network of locations can provide: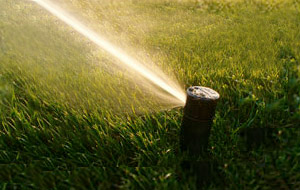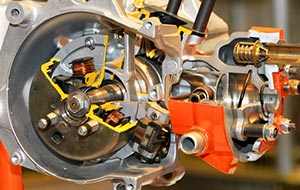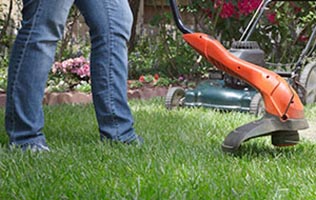 Fast Turnaround with a Wide Variety of Materials
---
Many springs and metal forms used in lawn and outdoor power equipment are subject to harsh operating environments – including wet, windy, dirty and corrosive conditions as well as extreme temperatures. Our experienced team of spring engineers and production staff offer years of experience in the production of parts for power equipment and garden applications, and can advise on design considerations, material selections and packaging options.
Often lawn, garden and outdoor power equipment applications utilize specific materials to help improve lifespan and avoid corrosion and wear. Our state-of-the-art production processes allow us to utilize virtually any material - including standard, semi-precious and precious metals. With modern machinery and advanced quality controls we are able to offer accuracy and efficiency, allowing us to manufacture parts quickly and at low prices, even for parts using very expensive materials.
Dependable Performance
---
With our extensive legacy of manufacturing experience, Newcomb Spring parts have proven reliable and dependable. We maintain a number of quality certifications and can comply with many of the electrical requirements that some power equipment applications require.  As a custom springs, wire forms and stamped metal form manufacturer, our parts are produced to meet specific client requirements, so please contact us for more information. Our parts for lawn, garden and outdoor power equipment applications are used in both OEM and replacement part markets and include:
brake components
carburetor parts
clutches
engine valves
hedge trimmer motors
hitches and trailers
hose reels
irrigation
lawn mower seat shock absorption
tine rakes
trimmer spools
spark plugs
sprinklers
starter assemblies
weed wacker triggers
wheel height adjustment