Barrel Compression Springs
---
Barrel Compression Spring Design Resources – Custom Barrel-Shaped Springs
---
As North America's leading spring manufacturer, Newcomb Spring can produce barrel compression springs in an almost unlimited variety of shapes and configurations. With efficient processes and strict compliance, we effectively produce parts using a variety of standard to precious-materials, and offer a complete line of secondary and finishing operations.
All of our barrel compression springs are custom manufactured to meet customer design and tolerance requirements. We manufacture barrel springs using:
Wire Diameters .007 to .625 Inches
Bar Stock Up to 2.0 Inches
Round, Rectangular, Square & Special-Section Wire
Custom Barrel Compression Springs Shapes
Barrel compression springs have a larger diameter in the middle and a smaller diameter at each end. Sometimes called convex springs, the barrel shape of the spring makes it less likely to bend while under load, often allowing these compression springs to be manufactured longer than constant coil springs with less concern for warping (which is especially useful in applications where the spring cannot be supported by a rod). Often several end coils of the barrel shaped compression spring are closed in order to ensure the spring remains centered when supported over a rod.
Newcomb Spring offers design assistance and can review compression spring shapes and specifications. Our expert team offers years of barrel-shaped spring manufacturing expertise, and can discuss design and production considerations that can ensure performance and cost-effective manufacturing.
---
Resource Illustration
---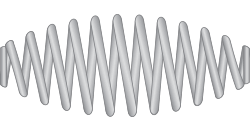 Barrel Compression Spring Diagram
The shape of the barrel spring makes it less likely to bend when deflected.
---