Hourglass Compression Springs
---
Compression Spring Design Resources – Custom Hourglass-Shaped Springs
---
Newcomb Spring has manufactured millions of compression springs, and offers some of the industry's most advanced and efficient production processes to provide high-quality, compliant and cost-effective spring production. All of our hourglass compression spring components are custom manufactured to meet customer requirements, with shapes, coiling configurations and materials customized to order specifications.
Precision Manufacturing of Hourglass-Shaped Compression Springs
All of our hourglass compression springs are custom manufactured to meet customer design and tolerance requirements. We manufacture hourglass-shaped springs using:
Wire Diameters .007 to .625 Inches
Bar Stock Up to 2.0 Inches
Bar Stock Up to 2.0 Inches
Hourglass-shaped compression springs, also referred to as concave shaped springs, have a smaller diameter in the middle of the spring and a larger diameter at each end. It is not required that each end diameter be the same, or for the narrowest part of the diameter to be in the exact middle of the hourglass spring's length. Customers often select this compression spring shape as the larger end diameter allows the part to be centered over a hole, while often allowing a lower solid height than a constant diameter spring.
Newcomb Spring offers expert design assistance and can review a variety of compression spring shapes and specifications. Our team offers years of hourglass compression spring manufacturing experience, and can discuss design and production considerations that can ensure performance and cost-effective manufacturing.
---
Resource Illustration
---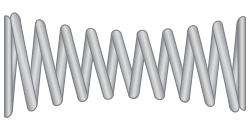 Hourglass Compression Spring Diagram
The hourglass shape allows the spring to center over a larger hole.
---