Conical Compression Springs
---
Compression Spring Design Resources – Custom Cone-Shaped Springs
---
Newcomb Spring manufactures custom cone-shaped compression springs and applies the highest level, long-standing manufacturing experience to every order. We produce a wide range of variable diameter and variable coil conical compression springs, using standard, semi-precious and precious materials sized .007"-.625" in wire diameter.
Cone-shaped springs, also known as conical springs, feature a diameter at one end that is smaller than the diameter at the other end of the spring. Under certain conditions, these compression springs allow for loads to be achieved at lower heights, due to their shape they are naturally "telescoping" – in some instances the solid height of the spring is only the diameter of the wire.
Often cone-shaped compression springs are utilized when one end of the spring fits inside a set space, and the conical spring is supported by an interior rod. Cone-shaped compression springs can improve stability and are often chosen for situations where vibration or movement from external factors are a concern.
Newcomb Spring offers design assistance and can review conical compression spring shapes and specifications. Our expert team offers years of spring manufacturing expertise, and can discuss design and production considerations that can ensure performance and cost-effective manufacturing.
---
Resource Illustration
---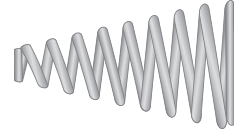 Conical Compression Spring Diagram
Conical springs allow for lower solid height.
---